English For Medical Purposes
Welcome to our English for Healthcare study program used by hospitals, universities, government training programs, teachers, and self-study students. It was built to be fun, fast, and easy-to-use. One user has even called it "amazing".
A complete solution for every teacher, school and training program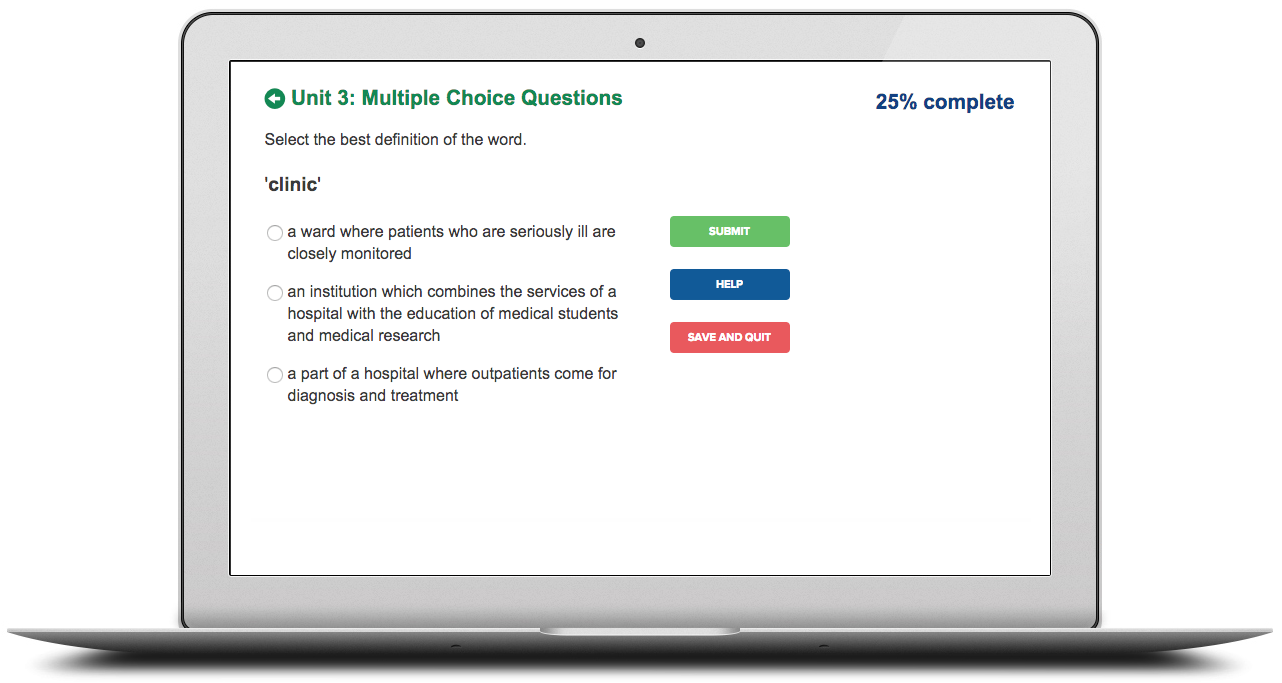 We Have 20 Full Units Online
How does it work? How does it teach?
Over 200 activities included
Are you a teacher or student of Medical English or English for Health Care? MedicalEnglish.com is suitable for university and professional use including: doctors, nurses, dentists, emergency medical staff, physical therapists, and other medical and health care fields.
Teachers can assign a wide range of activities including: Multiple choice, Gap fill, Listening comprehension, Writing, and Speaking exercises.
Students can be graded interactively or automatically so teachers can use precious class time for group discussions.
Easily view and manage students, time spent online, completed activities, and grades

Offer Your Students Certifications
Students who complete 15 units get printable certificates which can be verified online via QR codes.

How does it work?
MedicalEnglish.com includes a wide range of activities. All that's needed is a web browser and an Internet connection. It even works on smartphones.
What level are the course materials?
The course material is geared for intermediate to advanced English speakers. This would be equivalent to levels B1, B2, C1, and C2 levels on The Council of Europe Language Level Scale.
Customizable Student Certificates Included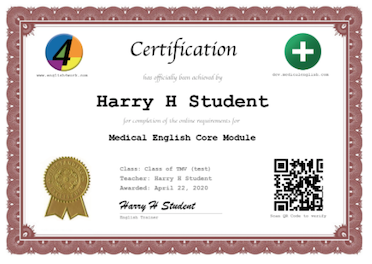 Teachers can customize and assign their own class-specific certificates.
Students who complete the course will get a printable certificate they can share with friends and potential employers.
What do users say about MedicalEnglish.com?
"I have just come across this site - really nice. Great quality!"

- Catherine R (teacher)


"I just finished a unit of the course and find it amazing."

- Gulgun F (student)


"Congratulations! I love the course!"

- Basi G (student)

Try MedicalEnglish.com Now For Free!
Get the first two units FREE! Just create an account to begin.